Staff of PHS: Ms. Jeannie
Ms. Jeannie oversees the Dress Room and has helped many students dress for many different events including but not limited to a luncheon with the state governor, proms and homecomings, and various holiday events. She is here every day, yet not many know much about her or what she does.
"I am the coordinator of the Dress Room. It has been in existence with the school district for 4 years, this is our second year here," Ms. Jeannie said. "I am here every day. Most of the donations are dropped off here or at the main office."
She doesn't have to be in the Dress Room daily, but she enjoys being here, with students and helping students. "I am here to help you kids," Ms. Jeannie said.
"When we were at Riverbend, I wasn't out there everyday. When Dr. Mulford contacted me and told me we were going to be moving to a new location, I asked him where we were going to be moving and he told me if he had his way we would be moving to the high school," Ms. Jeannie said. "I was very uneasy coming here, I knew a lot of the kids here, but a lot I didn't know and a lot didn't know me. I was very nervous the first year. Now I have the first year over, all of the teachers, staff, and faculty have been so welcoming. Just a few knew what the dress room was, this year it has been publicized more. We work with the Drama Club. I have really enjoyed myself this yea."
In her free time, Ms. Jeanne volunteers with veterans with an organization called Citizens for Veterans.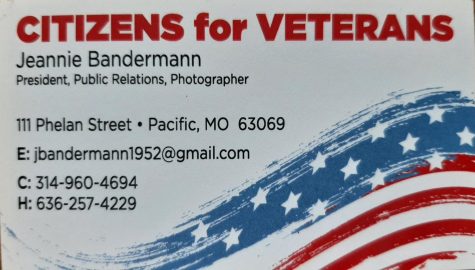 She works with the veterans, takes their pictures, and helps them get recognition for their service. She has a lot of family in the military so this is something that is special to her and something that means a lot.
A piece of advice she would give is to be friends with everybody.
"Sometimes I know it's hard, I always think when anybody comes in, you have to think they came in for one reason and that's what I have to help them with and find," Ms. Jeanne said.
She says she wouldn't change anything about her life. "I worked, I am a Pacific alumni, I graduated from Pacific in 1971, it'll be 50 years in May and my picture is down there on the board," Ms. Jeanne said. "Looking back, I didn't think I would ever be sitting here at Pacific High School doing what I'm doing. I love it, I enjoy it and I enjoy all you kids, that's why I'm here. If it weren't for you students, I wouldn't be here."