The Rolling Stones Roll Through the Lou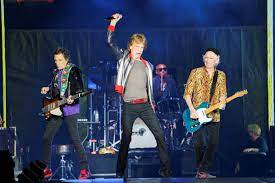 On Sept. 26, the legendary rock band the Rolling Stones played their first show of the No Filter Tour since the pandemic, and it was right here in St. Louis.
This concert was originally scheduled for June 27, 2020 and near the end of their tour, but COVID-19 the show was delayed indefinitely. Earlier this summer, the band finally announced the rescheduled date to be September 26, 2021, and that St. Louis would be their first show back on tour.
Most notably, this was the first tour the band ever performed without their longtime drummer Charlie Watts, who passed away in August. Watts' job has since been filled by Steve Jordan, former drummer for John Mayer. That left the only two individuals that have been in the band from the beginning to be frontman Mick Jagger and lead guitarist Keith Richards, who are age 78 and 77. Ronnie Wood, rhythm guitarist and member of the band since 1975, is 74.
I myself got the tickets for the show in early 2019, a year before the pandemic even began. Our seats were on the top deck, but for a band like the Rolling Stones where there is nothing but constant energy and movement, they worked just fine.
The show was timed to start at 7:30 pm, at which point an opening act would play, The Revivalists. I don't really remember their performance very much, but I do remember when the lead singer asked the crowd to sing and it went dead silent. He attempted this at least five times before giving up and just doing it himself. In my opinion the opening act played a bigger role in delaying the Stones to come on so people could get merchandise at the stand, whose line was painfully long. My mother waited in line for over 45 minutes trying to get stuff, so bless her heart.
 They left the stage at around eight o'clock, and the Stones came on about half an hour later, where they opened with "Street Fighting Man". I admittedly didn't know what it was until I looked it up because it was so loud. One great thing about the Rolling Stones is because they have been in the game for almost sixty years, they have released a lot of songs and have had a lot of hits, so their concerts are almost exclusively songs everybody knows. They played everything you would expect them to play, "Sympathy for the Devil", "Paint It Black", "It's Only Rock and Roll (But I Like It)", "Start Me Up", "Gimme Shelter", and of course, "(I Can't Get No) Satisfaction".
Looking at their setlists for other concerts before the pandemic, they weren't nearly as packed and included a lot more stuff from the 90s and some smaller hits from the 60s and 70s, but it seems like here they wanted to go all out with the songs everyone knew from their earlier decades. The show even had the 1965 song "19th Nervous Breakdown", which they haven't played live in public since 2005 and one I was pleasantly surprised to hear.
They really only had three songs that I would consider "filler". One was their lockdown song "Living in a Ghost Town", which I noticed was the song most people chose to leave their seats. The other two were the songs performed by Keith Richards, "Happy" and "Slipping Away", but Mick and some others had to go backstage to change so I would argue they were more justifiable.
One unique thing the Rolling Stones do for their concerts is they hold votes on which songs people want to hear within a certain theme. For example, the theme for St. Louis was "ballad", where the song "Wild Horses" won. I was a little upset with that because I wanted "Angie", but "Wild Horses" is just way more popular.
When talking about their performances specifically, they were phenomenal. Despite reaching pensionable age over a decade ago, Mick was incredibly energetic. Running across the stage, skipping down the lines, and dancing quickly.
The only issue I had with the entire show is that I thought it was too loud. I understand it's a rock and roll concert, but I was sitting on the top floor quite a distance from the stage and I still thought they could've turned down the volume on the speakers. But other than that, the show was amazing. At the show there were two guys sitting behind me who had seen the Rolling Stones many times, and he said that this was the best show he had ever seen from them.
It isn't surprising they continue to sell out stadiums even as they are approaching the band's 60th anniversary. Jagger especially is electric, never stopping and sounding the same as he did decades ago. Even though Charlie Watts is gone, the band has and will continue to roll in the years ahead.