A Virginian Sweep
How Republicans Pulled Off a Massive Upset and Why You Should Care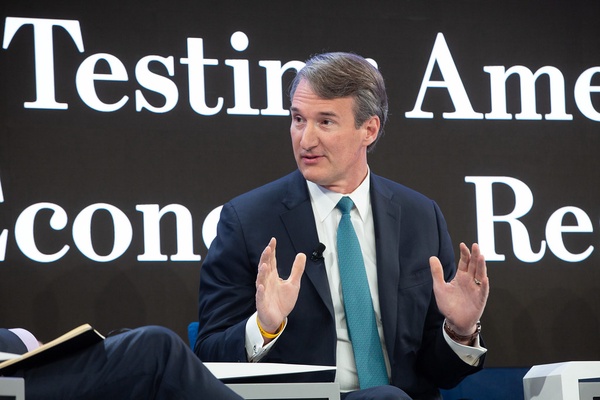 Virginia in recent years has not been very friendly to Republicans. The commonwealth has been trending to the left for a decade and a half, and with Biden winning the state by ten points combined with the continued migration of people moving to north Virginia to work in D.C, that trend seems unlikely to be reversed. So in this year's Virginia Governor's race the Democrats should have ran away with it, right? Well that isn't what happened on Election Day.
The Old Dominion experienced a shift from one party to the other faster than almost any other state in American History. It was a Republican stronghold for nearly forty years, and it seemed to be going the way of the rest of the South.
As late as 2000, CNN analyst Bill Schneider said that Virginia looks to be "increasingly Republican", and that the state has "really shifted into the GOP". But after Jim Webb flipped a Senate seat in 2006 and Obama flipped it on the Presidential level in 2008, the commonwealth has been seen to be going the way of New England instead of the South, and didn't vote for a Republican statewide after 2009.
Virginia is the only state in the country that forbids it's governors from running for consecutive terms, only allowing them to run again after a different Governor has served. As such, incumbent Ralph Northam couldn't run for re-election. So the Democrats turned to former Governor Terry McAuliffe, who preceded Northam and ran for a non-consecutive second term. Opposing him was Republican businessman Glenn Youngkin, former co-CEO of the Carlyle Group.
McAuliffe was widely expected to win this election handedly when the year began, and you can see the shift over the course of time through the medias' predictions. Both Inside Elections and Sabato's Crystal Ball initially ranked the race as "Likely Democrat", meaning the Democrat, in this case McAuliffe, is predicted to win with a margin of victory ranging from 5-10%.
Both of those organizations as well as the Cook Political Report then rated it Lean D, which is a 1-5% win, and then Sabato predicted a Youngkin victory with Inside Elections and Cook rating it as a "Tossup" in the last few days of the campaign. Political pundits like Ben Shapiro also went through similar phases, predicting a McAuliffe win until the last few weeks where he said he thought Youngkin would come out on top.
As it turns out, Glenn Youngkin was able to pull off an upset by prevailing over McAuliffe by two and a half points in a state Biden won by ten just one year earlier. Not only that but the Lt. Governor, Attorney General, and the House of Delegates were able to ride Youngkin's coattails to a Republican sweep, taking all three executive offices and flipping the state's lower chamber after Democrats took it two years ago. This is the first time since 2009 that a Republican has won a statewide office in Virginia when they took the Lt. Governorship and the Attorney General office.
"[Youngkin will win] at most by 1%," senior Justin Borgmann said the day before the election. Although he said he was very cautious when Decision Desk HQ called the election, he was "pleasantly surprised" to find out that Youngkin had won by two. "Huge win for the GOP," Borgmann said.
But why does this matter to the rest of the country? It is less to do with what legislation gets passed by Governor Youngkin and more to do with the symbolic nature of his victory. As previously mentioned, he is a Republican that has become governor of a state that Biden won by ten points, and that is going to cause concern among Congressional Democrats. They hold very slim majorities in both chambers of Congress, and unless it's a bipartisan matter, almost any defection from the Democrats will cause their bills to fail. 
House Speaker Nancy Pelosi has said that the results in Virginia won't change their plans in the House, and the President blamed Congress' inaction on passing Build Back Better and the Infrastructure bill as the reason voters delivered the Democrats the result they got, implying they are going to keep going with the same message and agenda. But the moderates in Congress could have different plans.
Twenty House Democrats are sitting on Republican-leaning seats, a voting bloc that would be more than enough to put a stop to Biden's legislation. Now they are offered one of two paths, go along with Biden and Pelosi, or in an effort to same themselves, vote against them to try and win some Republican votes to bring them to re-election.
So what happened? One of McAuliffe's biggest crutches throughout his whole career is his lack of campaign skill. He didn't have the energy necessary to turn out the base, relying on the state's deep blue demographics and others campaigning for him to deliver a McAuliffe win, and he had everybody he could've wanted on the trail with him. President Biden went to rallies, former Presidents Obama and Bill Clinton came out of retirement, Vice President Kamala Harris pushed for him in churches, and it was still not enough.
Meanwhile, Youngkin was stuck between a rock and a hard place when it came to bringing on others to rally with him. He couldn't bring former President Trump because of his unpopularity in the state, exit polls on election day showed that only 44% of Virginians liked the 45th President. The only thing Trump did in this race was endorse Youngkin. He never brought on any major Republican to do a rally.
With that said, Youngkin had one thing going for him that Trump didn't have- the backing of the entire Republican Party. The party is in a deep division between the neoconservatives and the populists, and Youngkin acted like a bridge figure. He said he would support Trump if he was the 2024 nominee but also said that "Joe Biden's our President", not going along with Trump's claims of fraud. Republican Maryland Governor Larry Hogan, who voted for Biden, endorsed Glenn and at the same time former Vice President Mike Pence fundraised for him.
Senator Ted Cruz, a staunch Trump ally said Youngkin is "the best chance Republicans have of winning Virginia this year". But Senator Mitt Romney, a bitter enemy of Trump, also supported Youngkin saying "If asked, I'll give to Glenn Youngkin's campaign. And I think he's a good person and hope he'll be successful." It's a unity of the party that hasn't been seen since the red wave of 2014 when the Tea Party and the establishment gained nine Senate seats.
COVID-19 for once took a backseat as the all-encompassing issue, both candidates tried to draw attention to other problems their opponent could be vulnerable on. McAuliffe took note of Trump's endorsement of Youngkin, and tried his hardest to tie Youngkin to Trump. When President Biden came to Virginia to campaign for McAuliffe he mentioned Trump 24 times in a 17 minute speech. McAuliffe even called Youngkin a "Trump wannabe" in the debates. When that didn't work, they tried using a photo of a man with a confederate jacket at a Youngkin rally to paint him as a neoconfederate, but if this result is anything to go by, those narratives aren't working anymore.
Youngkin had another key advantage in that he had the ability to dig through his opponent's four-year tenure for poor policy he signed off on to use against him. Out of all the things that happened under his administration, Youngkin went after the fact that the murder rate increased by 43% under McAuliffe's term. But Youngkin found a new winning issue in the last couple weeks; education. Democrats usually always win the education issue. Most people just look at who is going to spend the most money towards schools, but McAuliffe had one of the biggest blunders of the campaign when he said that he didn't think parents should be telling schools what they should teach in the final debate.
Just like that, Youngkin went from losing parents by 10 points to winning them by 14 according to a Fox News poll (note that though the network has a right-leaning bias, their polling has a bias towards Democrats. Their 2020 polling had Biden winning the popular vote by 8-10, and he only won it by 4.5). Youngkin successfully changed the focus of the education issue from who is spending the most money to what is the actual curriculum being taught and how easy it is for parents to be involved. Looking at the exit polls, white women with no degree went from voting for Trump by 56-44 to voting for Youngkin 75-25. Parents, especially moms, care deeply about their children's education and telling them they shouldn't be involved is one of the biggest reasons Virginia will have a Republican Governor.
According to CNN exit polls, out of voters that said that either the economy, education, taxes, or abortion were their top issue, Youngkin won those groups 71-29, 56-44, 55-44, and 60-40 respectivly. The only issue McAuliffe won was coronavirus, 83-17, and only 14% of voters put it as their top issue.
The White House has to be on red alert at this point. When McAuliffe called the White House Tuesday night after Decision Desk HQ called the election, they refused to answer. Now moderate Democratic Senators like Joe Manchin and Kyrsten Sinema are going to feel very emboldened by this result to continue obstructing the Democrats' agenda, giving Biden few places to go. If this is a sign for things to come, 2022 is going to be rough for the Democrats.