Redistricting: 40 States in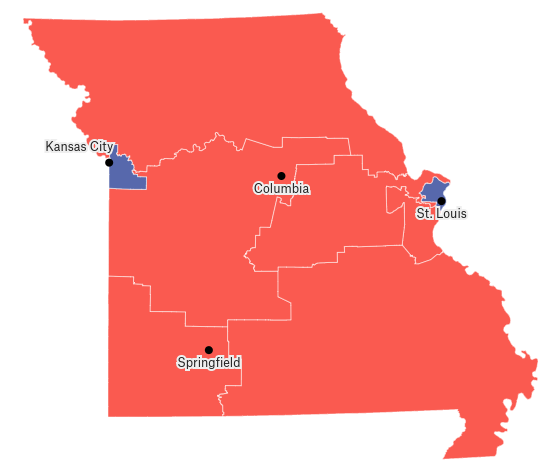 Redistricting has been a very interesting story to follow over the past few months. Through commissions, gerrymanders, court battles, and vetos, the results have been one of the few things that Republicans are pessimistic about come the midterms
The Census results initially set the stage for Republican gains, with GOP-controlled states like Texas, Florida, North Carolina, and Montana gaining seats and Democrat controlled states like California, New York, and Illinois losing seats. Sure, it wasn't uniformly good for the GOP, ruby red states like Ohio and West Virginia both lost a seat, while the liberal Oregon and Colorado gained one each. But overall, the GOP were expected to take back the House through redistricting alone. Michigan and Pennsylvania, both crucial swing states with Republican legislatures and Democratic Governors, also lost a seat in Congress.
The GOP in many of these states has been leaving a lot on the table. In addition, states like Ohio and Louisiana, Republicans already have essentially maxed out what they can legally get away with. This is where we have to acknowledge, gerrymandering exists. Everyone does it, no state has found a good solution for it, and we all secretly hope that our side gerrymanders better than our opposition. There has been a lot of it this round, so let's go through all of it starting with the GOPmanders.
 In Republican Tennessee, they made the current 6-2 map into a 7-1 map by splitting up Nashville into multiple districts, knocking off Jim Cooper (D). In Georgia, the legislature passed a map that gives the Republicans at least one additional seat and puts Sanford D. Bishop Jr. (D) in a slightly more unfavorable environment. States like Indiana, Utah, Oklahoma, and Arkansas have each shored up a district that was in contention in 2018 or 2020 to be safely in Republican hands. Montana's new seat is fairly Republican as well. In Kansas, the legislature overrode Gov. Kelly's (D) veto and the map puts the state's only Democratic Representative, Sharice Davids in a Republican-leaning seat.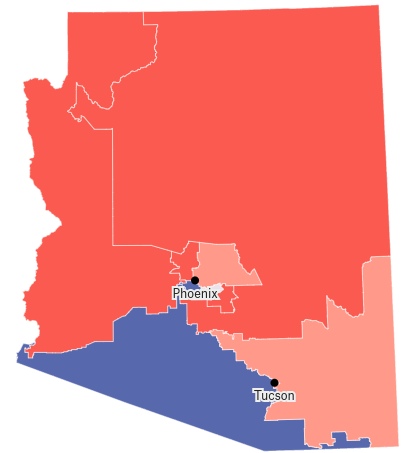 The GOP's most effective map so far comes out of Arizona, where they made Tom O'Halleran's (D) district safe Republican, Ann Kirkpatrick's (D) district nine points more Republican, and Greg Stanton (D) seat went from a partisan lean of D+15 to D+1 ("Partisan lean" is a metric that measures how much a district or state favors a party compared to the national vote. For example, if the Democrats won the national popular vote by 5 and the Republicans won a district by 3, that district has a partisan lean of R+8). This gives the GOP two almost certain pickups and one possible pickup come Election day.
In Texas, instead of trying to be aggressive and gain seats, the state chose to draw a map that would make it nearly impossible for Democrats to gain seats. There are only two competitive seats, both held by Democrats, left in a state with 38 representatives. Every single Republican incumbent got drawn into a district with a partisan lean of R+14 or more.
But that is about where the good news ends for the party. The courts have not been friendly to the maps that have pushed the envelope. North Carolina had enacted a map that would've give Republicans a couple more seats, but the map got struck down on Friday by the State Supreme Court on a party line vote of 4-3. Ohio's map was a dream for the party, but it got struck down because it disproportionately represented Republicans. Alabama provided a major scare when a federal court ruled the map unconstitutional because it was possible to draw two black majority districts instead of one. This was a surprise because the map was essentially a carbon and copy of ten years ago and it was looking like the Democrats would pick up a seat in Alabama. But the Republicans appealed to the Supreme Court and in a 5-4 ruling, they voted to keep the previous map. Saving the party from that disaster. It was actually possible to draw a map that would give Alabama a 100% Republican delegation, but the GOP passed a map with one Democratic district anyway, likely to get by the Voting Rights Act.
There are a few other states that could get the gavel as well. The Justice Department itself filed a suit against the Texas map, and there are a few lawsuits in Georgia that could screw over the Republicans. The Tennessee Democratic Party has also stated in light of the 7-1 map that they are preparing a lawsuit.
The most important Republican state left to finish a map is Florida, which was looking to be a disappointment to Republicans after the first thirteen maps had few changes, at best giving the GOP one additional seat. That is until Gov. Ron DeSantis proposed a new map that would give the party an additional three seats. Some have questioned whether or not the map would stand up in court, but it remains to be seen if the legislature even votes on the Governor's map.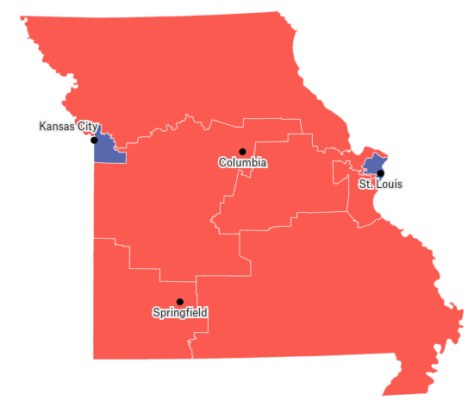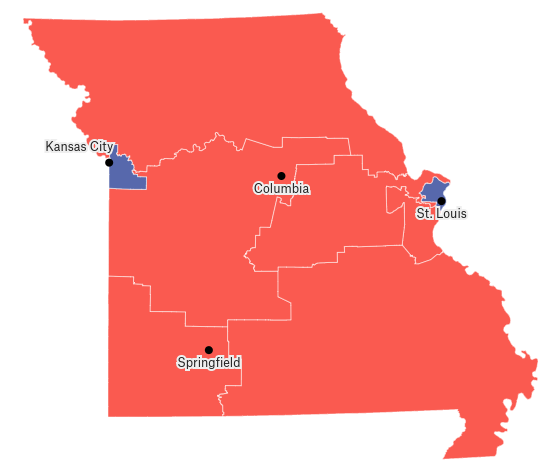 Another big state that remains is Missouri, which is seen as another missed opportunity for the Republicans. It is very possible to draw out Emanuel Cleaver's (D) seat into three or more districts, a move that was supported by the more conservative faction of the state legislature but a map that keeps Cleaver's seat in tact passed 86-67. After a filibuster in the State Senate, the Republicans agreed to a compromise map that would move Ann Wagner (R), who sits on the only competitive seat in the state, from a R+8 seat to R+20. Wagner's district was another point of criticism from the conservative faction, as the district has been trending Democratic and they wanted to fully protect Wagner as she is one of the 37 seats on the Democrat's public target list. If the compromise map passes, our high school would still be barely within the 3rd district. If you live in southwestern St. Charles county, you will be moved into the 2nd congressional district. Saint Louis county is still a large part of the district, but Jefferson also gets moved into it. Warren, Franklin, and Montgomery counties are still in the 3rd, and Washington and Crawford counties are still in the 8th district
Now for the Democratic maps. California was the most hotly anticipated out of them all. Although they lost a seat in Congress, they still are by far the most populated state in the country. California does not use it's legislature to draw maps, choosing to have a commission draw the maps and the legislature just has to approve it. The new map would make it easier for Democrats to pick up David Valadao's (R) seat, a Republican who voted to convict President Trump during his second impeachment trial. The new map also puts staunch Trump ally Mike Garcia (R) in a district three points more Democratic, now D+8. Garcia won by the third narrowest margin out of any house race in 2020, winning by 333 votes out of 338,943 cast. Biden even won his district by about 10%. Michelle Steel (R) also gets put into a more liberal district.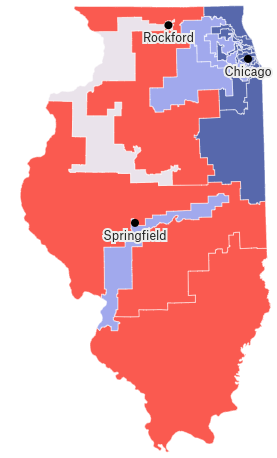 The best Democratic map has so far been from Illinois. The legislature was able to reduce Republican representation from five to three by packing as many whites into as few of districts as possible. There are two positives that come with the map for Republicans though. For one, Representative Adam Kinzinger, one of the most liberal House Republicans who voted for the 
January 6th commission and the second impeachment of President Trump, gets put into a district with another Republican incumbent, which was seen as a big reason that Kinzinger decided to retire. Secondly, Marie Newman, one of the most progressive members of Congress, got put into a district with another Democratic incumbent, so she could lose to a more establishmentarian Democrat. But, if she does win, she is also now only in a D+6 district, a lot more competitive than the D+10 community she used to represent. So the Populist Democrats could lose one of their core members.
Meanwhile up north, New York had intended to use a bipartisan redistricting commission, but that failed because if there is a 2/3rds vote, the legislature can vote to draw a new map themselves. Since Democrats hold a supermajority in both chambers, they swiftly chose to do just that. The new map gives the Democrats a much easier time picking up three of the seats held by Republicans, and shores up many of their incumbents sitting on Republican-leaning seats for future elections. But two of those Republicans are members the party is arguably not that unhappy about losing. One of them is John Katko, another Republican who voted to convict President Trump, and Nicole Malliotakis, who voted for the Infrastructure bill.
Maryland is a mess to look at just like the previous map, although it could've been even worse. There was another map drawn that would've put Maryland's one Republican in a tossup seat, but the legislature chose to vote for a map that simply reduced the GOP seat's partisan lean from R+28 to R+8. The Republican Governor of Maryland Larry Hogan wanted a commission to draw fair maps and vetoed the map the legislature had passed but the legislature overrode the veto. The map is in litigation and could be ultimately struck down.
The last gerrymander I will mention is New Jersey, which halved the number of pickup opportunities for Republicans from four to two. The map does make it easier to pick up Tom Malinowski's (D) seat, going from D+4 to R+3, but that is about the only good thing about the map for the GOP. It shores up Andy Kim (D) by moving his district 14 points Democratic from R+5 to D+9, making it very difficult for Republicans to pick it up.
There are two other Democratic maps I would like to mention: New Mexico and Nevada. The New Mexico map is one map that could go down. Given that lower federal courts ruled that Alabama violated the Voting Rights Act by disenfranchising black voters, the pendulum, if applied fairly, could swing the other way and strike down New Mexico because the map does the same thing with white voters. Hispanics narrowly outnumber whites in the state, and all three districts are Hispanic-plurality when it would be very easy to draw one white-majority district. In terms of the partisanship, it makes it easier for Democrats to pick up Yvette Harnell's (R) seat, shifting that from R+14 to D+4. The tradeoff is that NM-03 goes from D+14 to D+4. So in a red wave election, the GOP has a real shot at picking off two of the seats when they otherwise would have gained one. This is called a "Dummymander ", when a state draws a congressional map with intent to benefit a party, but thanks to demographic or national trends, it ends up hindering said party.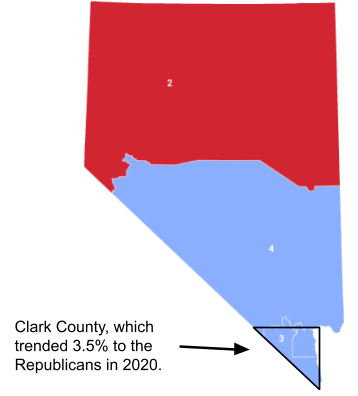 Nevada is another such dummymander. The old map was one safe red district, one safe blue, and two toss up seats with a partisan lean of R+1 and R+5 respectively. The new map does something peculiar; split up Las Vegas into three districts with razor-thin Democratic favorability (D+4, D+2, and D+5 respectively). An odd move because Clark county, of which two districts are now mostly inside of, is trending Republican. So in five years, Nevada could have three Republican-leaning seats, and one tossup.
But of course, we need to acknowledge the states that have put in the effort and have made fair and competitive maps. Colorado, who again gained a seat in redistricting, was able to make a map with the only difference being an additional R+3 tossup seat. Virginia's partisan makeup is the same at 5-1-5, but Elaine Luria's (D) seat goes from R+2 to R+6 while Abigail Spanberger (D) does get shored up a little; R+5 to D+2. In Washington, the State Supreme Court drew a map that continues the status quo of six Democrats, three Republicans, and one tossup. In Nebraska, many people expected the legislature to gerrymander the second congressional district because Nebraska is one of two states that allocates its electoral votes based on wins in each congressional district, and Biden easily won NE-02 by 6.6%. The legislature did draw it to be more favorably, but the difference is small. It went from "even" (meaning no party has an inherent advantage) to R+3, but Biden would've still won the district fairly comfortably.
Currently there are 10 states that have yet to pass a map, and there are a lot of unknowns surrounding them. In Louisiana, the moderate Democratic Governor John Bel Edwards stated in a news conference he wants a map that has two black-majority districts, one more than the current map and one that would almost certainly go Democratic. The Republicans are still planning to pass a map with only one, but if Edwards vetoes the map the Republicans are two votes short in the State House to override his veto. The State House does have three independents, so it is very possible that they could get two of them on board. If they don't, the Republicans might not get their way and have to concede another seat.
Minnesota has seven maps that could be passed, all with different partisan leanings. Minnesota has a Democratic Governor and House, but it also has a Republican Senate. Whatever map passed would have to be fairly bipartisan, and would likely keep the current seat makeup. 
North Carolina and Ohio are very much in the air. Ohio has a bipartisan commission working on a map, and it must be approved by the state Supreme Court which voted 4-3 against the last map. North Carolina is also going to have to get passed the 4-3 Democratic Supreme Court in order to enact a map, a feat the legislature has done before in 2020. It would likely not significantly change the partisan balance of the current map (8-5 Republican majority); maybe a 9-4 map if they are lucky.
Redistricting may not be uniformly good for the Democrats, we are still waiting for Florida and a few other major states, but it is unquestionable that this cycle has been a net good for them. They have made tossup seats more liberal and shored up many incumbents as 2022 looks more and more like a red wave. Republicans have had victories in places like Arizona and Tennessee, but they have been few and far between. The GOP still is the favorite to win the House of Representatives, although it might be as triumphant a victory it could've been.