Caffeination Station
Caffeination Station is ran and owned by PHS' very own JAG club and serves coffee, smoothies and lemonade.
Caffeination Station is a recent addition and serves as the school's own coffee cafe. Opening in January 2020 by the Jobs for America's Graduates (JAG), unfortunately were just finding their footing when the Covid-19 pandemic closed school doors. Caffeination Station serves a wide variety of drinks, ranging from smoothies to coffee.
The idea originated from JAG students and sponsor Dean Penberthy wanting to run a business on campus. The original idea was to open a T-shirt business. After transitioning to a cafe, JAG students voted on the name through a survey.
"Our goal is to get some work experience for those working," Penberthy said. "Sometimes it's hard getting solid work experience when you're a kid."
The Caffeination Station was originally placed in the student store, but recently reestablished a larger space in the old commons area near the restrooms. Mari Hall's Art Seminar students Taylor Tettamble, Safiyah Benzabeh, Justin Todd, Emma Brown, Jaden Braiser, Desi Delisi, Autumn Angus, and Emily White helped create tables for Caffeination Station.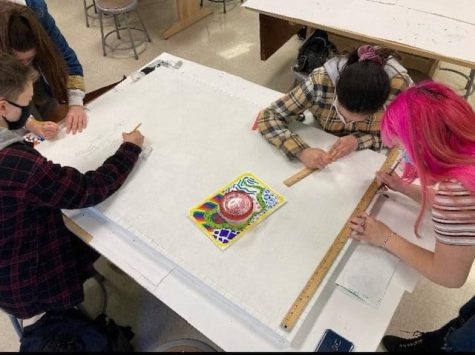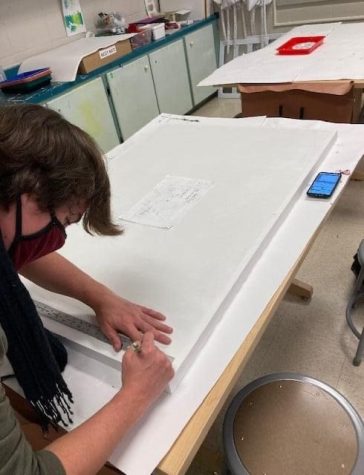 "JAG and the coffee shop have helped me experience so much that wouldn't have been possible without it," JAG member Caroline Marie Austin said.
Only JAG members can volunteer to work at the coffee shop. Volunteers are responsible for the shift and what happens during the shift. A primary focus of JAG  is teaching students how to behave and interact appropriately in a work environment. The coffee shop is just one great way to teach students how a business operates.
Even more improvements for the Caffeination Station are on the way.
"The greatest goal is to create a space that people can hang out and have coffee," Penberthy said. "We are planning on putting a sound system in. A group of tables, made by Mr. (Paul) Miller's shop classes and painted by art classes, and if Covid ever ends we will add comfortable seating and couches."
JAG Club plans on turning Caffeination Station into a truly relaxing and surreal cafe experience that brings students together.