Sarah Fuller, first women to play in a college football power 5 conference game
Fuller, a senior, is a goalkeeper for Vanderbilt's soccer team, is asked to pinch-kick due to the teams kicking unit unable to practice because of Covid-19
Sarah Fuller becomes the first-ever woman to play in a college football power 5 conference against Missouri to start the second half.
Fuller, a senior, is the starting goalkeeper for Vanderbilt's soccer team. Fuller's pinch-kicking for her college football team is one of the many reasons Covid has affected our society.
"It's just so exciting that I can represent the little girls out there who wanted to do this or thought about playing football or any sport, really," Fuller said to the New York Times.
Fuller wore the number 32, the same number on her soccer jersey, and with the phrase "Play Like a Girl" across her helmet.
"Football is a lot slower, there's a lot of lull time," Fuller said to the New York Times. "In soccer, it's just one after the other, you're constantly engaged."
When Missouri led 21-0, Fuller gave the whole team a pep talk and said how she wanted to see more energy on the sidelines.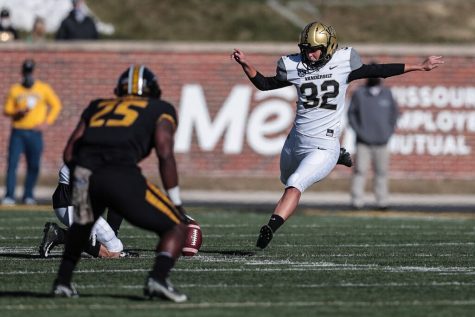 Vanderbilt was blown out by Missouri, 41-0, with Fuller not having the opportunity to shoot a field goal. Vanderbilt is now 0-8 for the season. Zero wins and 8 losses.