Bailey Brunjes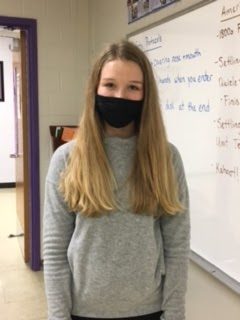 Transitioning to high school can be difficult; transitioning to high school during a pandemic is an added challenge. Freshman Bailey Brunjes experienced quarantine in October due to a Covid19 close contact exposure.
"I was distracted by anything and everything at home," Brunjes said. "Mostly the teachers were very good at paying attention to the kids joining on Zoom, but there where some times that I felt ignored."
Brunjes also plays sports, including volleyball and is hoping to play soccer during the spring. Requirements and changes due to Covid19 affected volleyball significantly.
"At some schools, we played with masks on, and at some schools we didn't," Brunjes said. "Guests were limited, and some schools didn't allow any spectators. It was hard to keep track of changing rules."