A Trending Hashtag Brings Awareness
Sophomore MacKenzy Barnhart shares her passion for ending SARS
Sophomore MacKenzy Barnhart is calling for your help to end SARS. But what exactly is SARS? Why is it a significant matter?
SARS or Special Anti-Robbery Squad is a branch of the Nigerian police force that was composed to work kidnappings, robbery, motor theft, firearms, cattle rustling, and other crimes. A once successful addition to the Nigerian police force, the unit has recently been accused of committing the same crimes it is supposed to prevent.
The unit has experienced most conflict with Nigerian youth. The division currently has over 80 cases of police brutality in the past three years, including mock execution, beating, hanging, waterboarding, and burning with cigarettes. Advocacy groups including Amnesty International allege members of SARS are targeting younger people(18-35). The groups allege that SARS members are more likely to attack men with dreadlocks, piercings, fashion choices and hairstyles.
"The conflicts have existed for a while, but the trending hashtag and videos brought a lot of awareness to the issue," sophomore MacKenzy Barnhart said.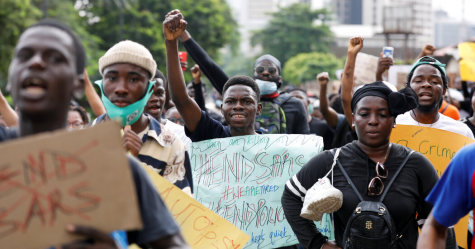 The #EndSARS hashtag began trending when a video was released showing a SARS police officer shooting a young Nigerian in front of Wetland Hotel, Ughelli, Delta State. On October 8th, protesters slept outside Babajide Sanwo-Olu's (Lagos state governor) gates overnight. Police were dispatched to disperse the group, and protestor Jimoh Isiaka died. Two days later Muhammed Adamu, Inspector General of Police, called for the disbanding of SARS. This is not the first recommendation for the disbanding of SARS. Shortly after, a SARS unit opened fire on an unarmed peaceful protest, killing one and wounding 25 others at Lekki Toll Gate. Protesters were singing the national anthem.
"I feel like people don't understand that they can still make a difference, whether you can vote, donate, or just bring awareness to the topic," Barnhart said.  
Barnhart says you can do your part by donating, attending a protest, and taking the time to learn more about the topic. Educating yourself is a small yet tremendous contribution to the movement.